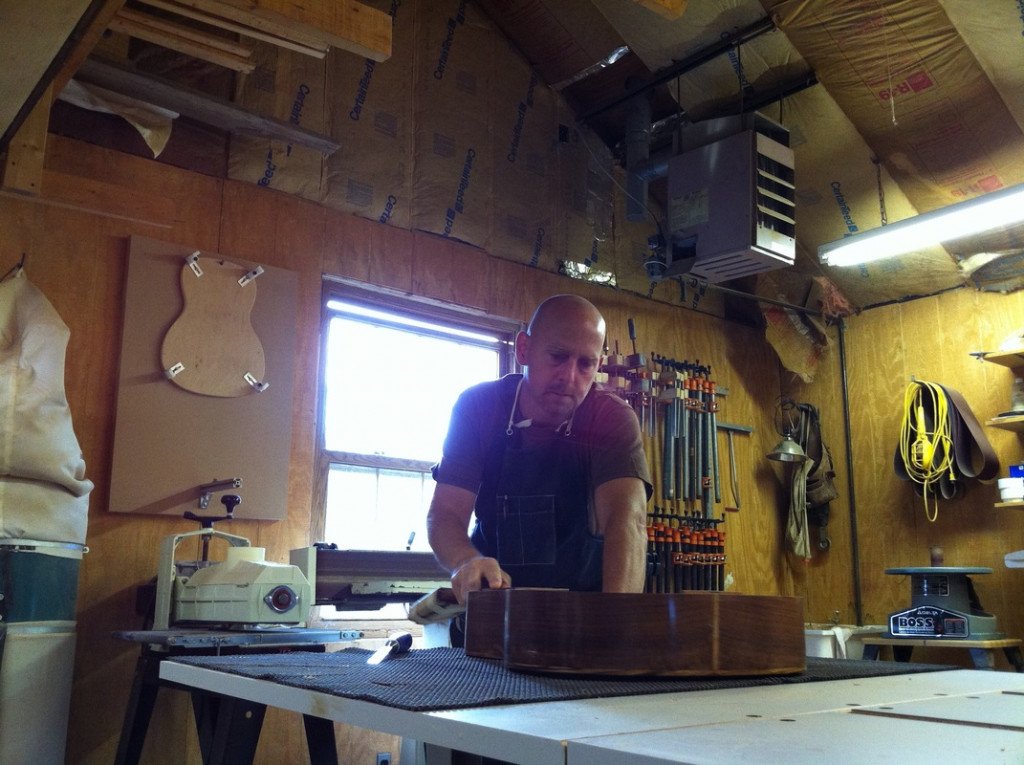 " A guitar is an outwardly simple device to the uninitiated, but its beauty and soul are in the quality of the materials used and the attention the builder gives to nuance and detail…​
As a founding member of the Gibson Guitar Company my great great grandfather, Thaddeus McHugh was a tenor, innovator, and master luthier who in 1921 helped changed the way we play guitars today. His patented designs of the truss rod and adjustable bridge made guitars more playable, longer lasting and these innovations carry on today. This idea that a product should perform well and bring years of service and joy was passed on through generations of wood workers and guitar players in my family.
As a teenager I myself fell in love with the guitar and for years I eagerly absorbed as much of it as possible. Practicing and studying continuously to hone these skills. Through the years I performed locally and regionally, offered private lessons all the while continuing to learn. As a necessity I educated myself to repair, build and maintain my guitars.
​Having grown up with generations of woodworkers, luthiers and craftsmen I continued these traditions as well. Honing these skills throughout my adult life the guitar was always my constant companion. As time went on my interests diverged from performing to actually creating the instrument. After more than 25 years my passion continues. Today I build handcrafted classical guitars for the discerning enthusiast.
A guitar is an outwardly simple device to the uninitiated, but its beauty and soul are in the quality of the materials used and the attention the builder gives to nuance and detail. I build using the finest available materials and employ traditional construction techniques. My guitars are built to provide years of enjoyment to their owners with a simplicity and quality that my great great grandfather would approve of.
Here you will find some common repairs services and pricing options. I am a full service repair shop and not every scenario can be listed so please feel free to contact me regarding the specifics of your instrument. I work by appointment only.
When someone purchases one of my guitars I encourage the buyer be personally involved in every aspect of the build. From the initial interview, selection of features to suit the players needs, types of woods used all the way down to the finish. In my opinion this is what makes a guitar "custom", the fact that every aspect is founded on your personal needs and desires hence giving it its unique character.
All of my guitars are handcrafted from a player's perspective using only the best materials and techniques available. I build only a limited number of guitars each year and in doing so it enables me to not only focus on producing instruments with superior sound quality but unique visual aesthetics as well. Each guitar I build is truly a one of a kind.
I style my guitars after Hermann Hauser using mostly traditional building techniques. With all the master luthiers that have come before us I couldn't convince myself to do it any other way. I saw it as an opportunity to resurrect a piece of history while utilizing the best of each of their works. This has been my philosophy from day one and as I now see the industry trend returning to some of these traditional methods and materials I now know it was the correct one.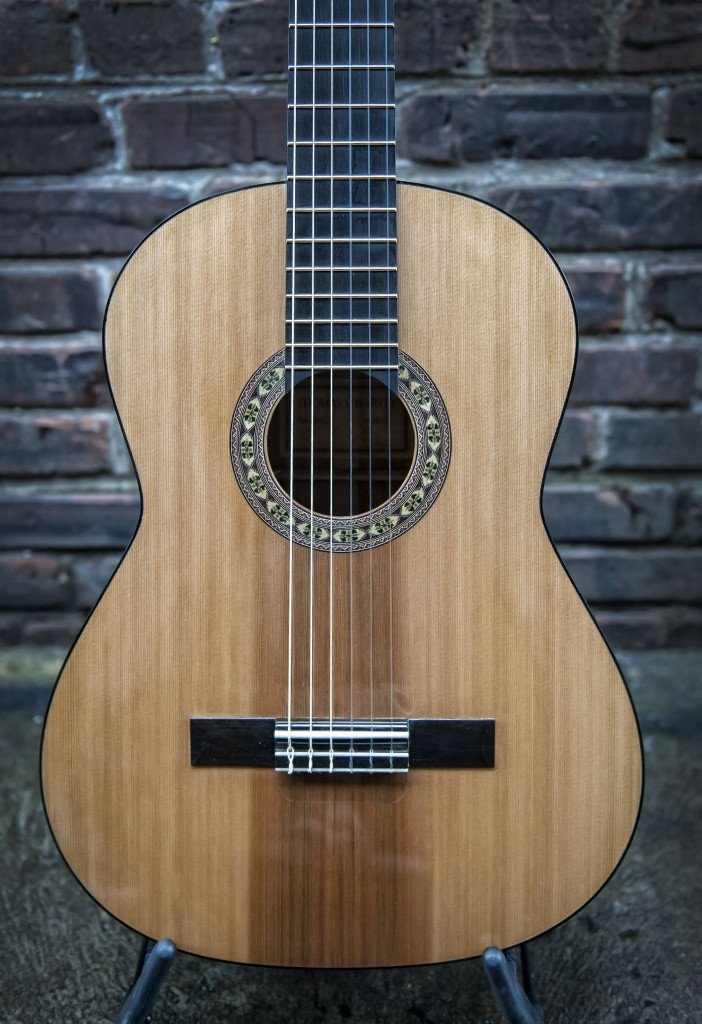 I build a limited number of guitars each year and the waiting period is approximately four months.
My standard build includes the finest grade of Engelmann spruce or cedar top; East Indian rosewood back and sides; Spanish cedar neck with carbon fiber stabilizer; rosewood fingerboard; rosewood bridge; all wood bindings; a natural wood rosette. The fingerboard is a 650mm scale and the width is 52mm at the nut and 64m at the 12th fret (other scales and spacing can be accommodated). Natural bone nut, saddle, and tie block inlay. The neck is a Spanish heel construction and can be shaped to the customer's preference. All instruments are finished in a multistage varnish process and hand buffed to a beautiful luster.
The base price is $4200.00, which includes Gotoh Premium or Gilbert classical tuners, SKB Thin-line hardshell case with humidifier with a digital hygrometer.
When a guitar is ordered I require an initial deposit of thirty-five percent of the total price, and a final balance on completion. I do welcome an inspection of the guitar during various stages of construction (with an appointment). All transactions must be in U.S. funds or equivalent, cash, money order, or certified bank draft. The final satisfaction of CITES or any other necessary export/import regulations is the responsibility of the owner.
Optional Material (à la carte): prices will vary based on availability and current market value.
Back and Sides:
African Blackwood
Amazon Rosewood
Bocote
Bubinga
Black Walnut
Claro Walnut
Cocobolo
Honduran Rosewood
Indian Rosewood (standard)
Indonesian Rosewood
Koa
Macassar Ebony
Pau Ferro
Sapele
Tasmanian Blackwood
Wenge
Zebrawood
Ziricote
Tops – (Tone woods):
European Spruce
Engelmann spruce (standard)
Western Red Cedar (standard)
Western Red Cedar "Reclaimed " (streaks)
Thermal curing is available on all tops. Also known as "torrefication", "roasting" or "baking" which is a controlled drying technique that accelerates the natural aging process of wood. Not only does baking change the outward appearance of the wood giving it an aged golden brown color but it structurally causes the wood to be stiffer and lighter in weight. A winning combination when it comes to soundboards.
Fingerboards:
Ebony (standard)
Rosewood (standard)
 
Tuning Machines:
Alessi
Fustero
Gilbert (standard)
Gotoh Premium (standard)
Irving Sloane
Schaller
Waverly
Graf
 Construction Options
 Finishes:
Varnish (standard)
Shellac Spray
Shellac French polished
Nitrocellulose
Nitrocellulose body, French polish soundboard
 Fingerboards:
Custom widths
Scaling (650mm standard)
Radiusing
 Bridge:
Twelve Hole (double-hole) Tie-block
Warranty
​I warrant my instruments against defects in materials and workmanship for my life as an active luthier.  I will not cover damage due to fair wear and tear, abuse, neglect; extremes of temperature or humidity (see my notes on humidity). Also despite years of proper seasoning, it is the tendency of several wood species to develop hairline fractures.
Periodic maintenance is the responsibility of the owner and is a condition of this warranty.  Appropriate care accessories and instructions are included in the purchase of each instrument.  Any repairs or alterations performed by someone other than me may risk the cancellation of this warranty. All transportation expenses are the responsibility of the owner.
Returns
After fifteen days of receipt, if an instrument proves unsuited to the player, it can be returned for the purchase price, (minus any shipping &  handling fees).  If not in new condition, the cost of restoration will also be deducted.  Reimbursement will follow immediately upon the inspection and any restoration (if needed) of the returned instrument.
Please feel free to contact me should you have any questions about the guitars and/or the services that I offer. I have many additional resources not listed that may be able to assist you…